Allan Jayne's Historic Street Lighting Page
Updated 2/17/12
Years ago, streetlights came in many different shapes and sizes. Here are descriptions and pictures of some that are seldom seen today.
Go to streetlight collection listing.
Go instead to articles on subjects that interest most people.
---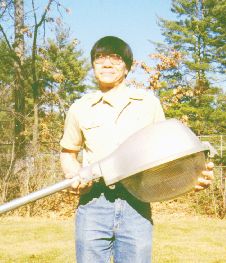 "No, it's not a guitar."
Why would anyone devote a web page to streetlights? I became interested in streetlights when I was 4 years old. I would draw pictures of them in my spare time. Sometimes just the streetlights, sometimes complete city scenes with roads, buildings, cars, street cars. One year I even wanted Santa Claus to bring me a streetlight for Christmas. He didn't but he did bring some small light bulbs, wires, and batteries instead.
This web page is devoted to old streetlights, specifically those manufactured in quantity before 1965. Today most streetlights have the same general appearance that suggests a cobra snake's head and neck flaps. Indeed they are referred to in the industry as "cobra heads". There is a sort of sameness where one has to be an expert to look up and quickly identify a particular make and model. This was an advantage in that when a streetlight had to be replaced, one that did not match did not stand out. But before 1965, streetlights were made in many different shapes. When I was young, taking otherwise boring rides in the car, I would pass the time trying to identify the various styles of streetlights I saw.
I began collecting streetlights in the early 1990's, unfortunately long after the styles that most interested me most had been taken down and sent to the scrap heap in favor of more energy efficient models.
This web page is not intended to duplicate all of the information you can find elsewhere. Links to other web pages.
---
Streetlight Descriptions
About My Collection
Take a Peek In My Garage
Radial Wave Incandescents
Line Material Spherolite Jr.
L:ine Material Early Style Ovalite
Line Material Late Style Ovalite, Westinghouse OV-35
Line Material Hanging Incandescent
Hartford-Faience Porcelain Head Fixtures
Norelco LPS Fixture
General Electric Mercuries
GE Form 109 Top Mount
Urban Enclosed Incandescents
Westinghouse AK-10 Incandescent
Westinghouse OV-20 Mercury
Westinghouse Gumball
New York City Cuplight
Design Patent 100102 Head
Other items (more detailed descriptions under construction)
Light Sightings (On Location Photographs)
GE Form 109 Incandescent
In a Town Near Me
Various Street Lighting Related Topics
How Simple Can You Get?
Converting Incandescent to Mercury
How the Ballast Works
How Much Light Per Watt?
Gas Streetlights
Lamp Screw Bases
Timer Controlled Gas Light
Ohm's Law and Voltage Drop
Open antique hinges with extreme care!
---
All parts (c) Copyright 1997-2004, Allan W. Jayne, Jr. unless otherwise noted, or other origin obvious or stated.
If you would like to contribute an idea for our web page, please send us an e-mail. Sorry but due to the volume of e-mail we cannot reply personally to all inquiries.