March 1999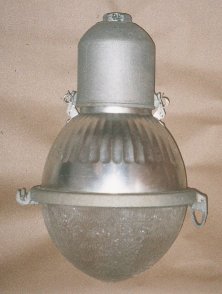 This luminaire probably should be considered one of the AK-10 series since the reflector is of the same size and design. There are minor differences compared with our AK-10 deep bowl incandescent luminaire, thus showing gradual improvements over the years. For example this specimen has a cast aluminum ring covering the entire reflector lower rim while the other AK-10 has small cast aluminum fittings for hinge and latch on opposite sides of the rim only. We are not sure which design is more recent. The double latch holding the reflector to the head is a standardized design (NEMA) permitting parts interchange with other manufacturers.
The refractor is set in a cast aluminum ring. The ring is hinged to the reflector on one side and held in place with a latch diametrically opposite. This permits servicing without having to unlatch and lift off the entire lower globe. General Electric and others made most of their luminaires with the refractor permanently attached to the reflector, or attached using a circumferential retaining ring whose ends were bolted together.
By the mid 1950's Westinghouse advertised heavily their spring loaded latch that permitted one hand closure. The latch on this specimen has a loop suggesting that it may have been customary to open the luminaire using a long pole, change the lamp with another pole with a padded gripper at the end, and then slam the globe shut. Although the refractor and ring assembly is designed not to fall if allowed to swing freely, I would not feel comfortable letting it loose while standing down on the street below or halfway up on a ladder.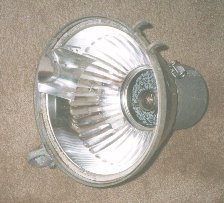 The reflector, probably made between 1955 and 1965, has held its shine all these years. The fin shown at the upper left is an optional additional reflector to direct light away from houses and into the street.
The refractor has "2002 CC" molded at the bottom and "IES Type 3" molded on the upper rim. "IES Type 3" stands for a medium oval light distribution pattern.
Outer diameter at lower rim: 14-1/4", over hinge and latch sections:16-1/4".
Inside diameter of polished part of reflector at widest point 12-3/8:.
Head weight: 3-3/4 lb.
Reflector (only) weight: 2-3/4 lb.
Glass refractor and ring: 9 lb.
(Weight complete except lamp: 15-1/2 lb.)
From the collection of Larry Rogak.
---
Top of Page
Back to streetlight main page
Go to index of other topics
Contact us
(c) Copyright 1999, Allan W. Jayne, Jr.