Norelco Model 34836-500 Low Pressure Sodium Fixture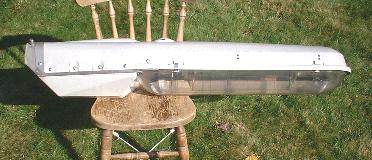 ---
This specimen was salvaged from the Massachusetts Turnpike. When the lights were taken down, the poles and bracket arms were sawed into short sections, the bracket arm here was sawed off flush with the end of the fixture. About 9 inches of bracket arm extends inside the fixture. From the green paint on the bracket arm fragment we believe this fixture was used on one of the older turnpike ramps west of Rte. 128, replacing the original GE Form 109 mercury fixture on the same 25 foot Union Metal green painted steel pole. New 35 foot aluminum poles with HPS fixtures are being installed, spaced differently. As of January 2004, some of these Norelco fixtures are still in use, on the Boston Extension section east of Allston.
Has cast aluminum alloy combination head and slip fitter with ballast inside, plastic lamp housing and refractor, plastic covering under head. No reflector. No photocontrol on this unit.
Dimensions 4'-5" long, 11" wide.
Refractor inside dimensions 2'-11" long, 9-1/2" wide.
Weight 31-1/2 lb. including lamp.
Uses 90, 135, or 180 watt SOX (LPS) lamps when appropriate ballasts are installed.
This one came with a model L72 90 watt lamp and is wired for 277 volts AC with expected 0.50 amp. current consumption. (A 480 volt 3 phase power system has 277 volts from any one phase to ground.) Lamp is 18" long and with 2-1/2" diameter outer bulb or flask, illuminated area as seen is 15" long within U-shaped arc tube inside.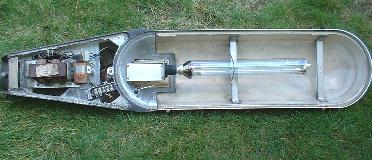 ---
Top of Page
Back to streetlight main page
Go to index of other topics
Contact us
(c) copyright 2002, Allan W. Jayne, Jr.
If you would like to contribute an idea for our web page, please send us an e-mail. Sorry, but due to the volume of e-mail we cannot reply personally to all inquiries.