Early 20'th Century Hanging Streetlight
Last updated 11/18/04
---
Many years ago I recall seeing from time to time a single open bottom streetlight with pie plate reflector hanging in the middle of an intersection from a span wire. I do not recall the locations. Estimated date of manufacture: 1930.
This incandescent streetlight graced the Carbon County fairgrounds in Lehighton, PA. The fair had not been held there for decades and one of the families who lived next to the fairgrounds had salvaged the light. We obtained it and a few other similar lights from this family via an eBay auction. We don't know whether the light was installed outdoors or in a barn.
Overall height excluding hanging loop,15-1/2". Width of reflector 14-1/2" Weight 17 lb.
The porcelain head was made by Line Material Inc. as evidenced by their triangle logo faintly molded in the porcelain (inset above). It is 9" high by 9" diameter at the widest part. The reflector is copper or bronze and has been painted a number of times. The underside is not as reflective as it could be for efficient illumination, probably from dirt and tarnishing.
The glass refractor eliminates glare from an exposed filament and is reminiscent of the bucket shaped refractors of today's yard lights. It gives a circular (omnidirectional) light spread. It actually has two concentric glass layers, the inner having horizontal circular ridges and the outer having vertical ribs. Dimensions: 8-1/4" diameter overall at top, 7-1/4" diameter at bottom, 3-1/2" high.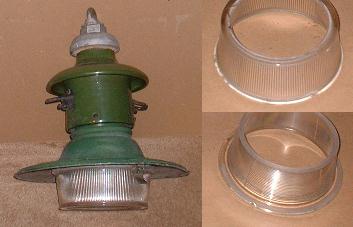 This fixture has series wiring, with the screw terminals for the power leads on the outside along with strain relief loops.
It probably used a 200 watt (2500 lumen 189 watt) or 300 watt (4000 lumen 295 watt) lamp although neither seem like a good fit. The fixture has a mogul sized socket while the 200 watt lamp usually has the smaller medium screw base. The typical 300 watt lamp is too large for its filament to be positioned properly within the refractor.
---
All parts (c) copyright 2004, Allan W. Jayne, Jr. unless otherwise noted or other origin stated.
If you would like to contribute an idea for our web pages, please send us an e-mail. Sorry, but due to the volume of e-mail we cannot reply personally to all inquiries.