Take a Peek In My Garage
Back to streetlight main page
Go to index of other topics
---
The streetlights hung from the garage ceiling are all operational. Low wattage (25W-40W) incandescent lamps are used because I don't need that much light, and also I don't want to overload the circuit. Blue colored lamps are used to simulate mercury vapor.
For each luminaire, a section of pipe about two feet long (originally from a fence pole) was rigidly mounted near both ends to a ceiling joist using shelf brackets and chain link fence clamps. Wiring consists of lamp cord, a pull chain switch, and a standard outlet plug. A cylindrical adapter screws into the large (mogul) lamp socket and a standard household lamp screws into the adapter. Incandescent luminaires rated under 200 watts have household lamp sockets (medium screw base) and no adapter is needed.
Above, left to right:
Wheeler quarter moon with lacquered aluminum reflector
Wheeler quarter moon with enameled steel reflector
Line Material Ovalite
Westinghouse OV-20, early style
Wheeler radial wave with anti-vandalism shield
Admiral hat incandescent (unknown make)
Above, left to right:
Gumball incandescent with GE #205 reflector (#4110 refractor)
Pemco gumball incandescent
Westinghouse AK-14 incandescent
Hartford Faience incandescent with deep dish reflector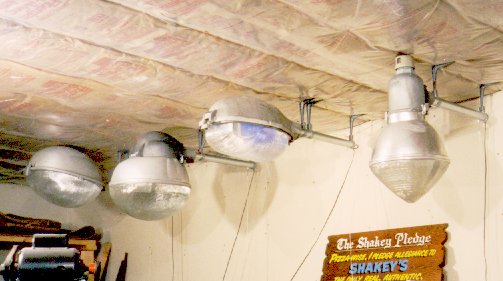 Above, left to right:
GE Form 400 mercury
GE Form 109 mercury
Westinghouse OV-20 mercury, late style
Incandescent with GE #4102E refractor
Above, left to right:
Pemco radial wave incandescent
Admiral hat (unknown) with aluminum reflector
Hartford Faience radial wave incandescent
---
All parts (c) Copyright 1997-2004, Allan W. Jayne, Jr. unless otherwise noted, or other origin obvious or stated.
If you would like to contribute an idea for our web page, please send us an e-mail. Sorry but due to the volume of e-mail we cannot reply personally to all inquiries.