Line Material Industries (McGraw-Edison) Spherolite Junior (R)
This reflector-refractor assembly was used with 1000 to 2500 lumen incandescent lamps (up to 200 watts). It was used in rural areas and on minor streets, where an enclosed fixture with refractor was desired. The unit has the NEMA snap on latches.The refractor is held in place by a grooved perimeter ring.
As acquired, this specimen had a Wheeler #42313 head with photocontrol socket and external wiring (left picture below). The nipple that admits the wiring, last a two conductor sheathed cable, is seen next to the mounting collar. For higher voltage series circuits, there is a similar opening on the other side of the mounting collar as it is customary for the two conductors to enter the luminaire separately. The second opening is now covered by a flat metal plate. This head has been commonly used with the same 1000 to 2500 lumen lamps and open bottom quarter moon reflectors.
The photocontrol is a Ray-O-Cell (R) catalog no. C2-100 by Com-Pak-Ett Mfg. Co. of Allegan, Michigan.
Weight of complete unit at left: 10-1/4 lb.
Weight of reflector-refractor assembly only: 3 lb.
Diameter over retaining ring: 8-1/2 in.
Number molded on refractor: 4012-III.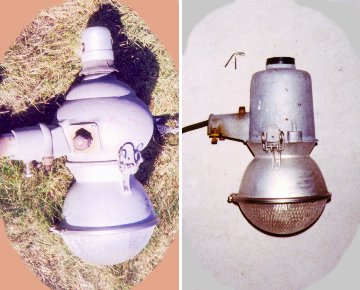 We are experimenting with solid color vignetting on the pictures since busy or mottled backgrounds cause the pictures to unnecessarily consume more of the limited web site space allotment and take longer to display.
The same reflector-refractor assembly is shown in the right photograph, posed with a more discreet cylindrical head.
This is another example of mix-and match that cities and utilities frequently did when maintaining streetlights. The NEMA standards made it easy to interchange parts made by different companies.
Line Material also made a larger, approximately 12 inch in diameter, gumball style refractor-reflector also called Spherolite, for higher wattage lamps, along with a variety of heads to go with it.
---
Back to streetlight main page
Go to index of other topics